About Us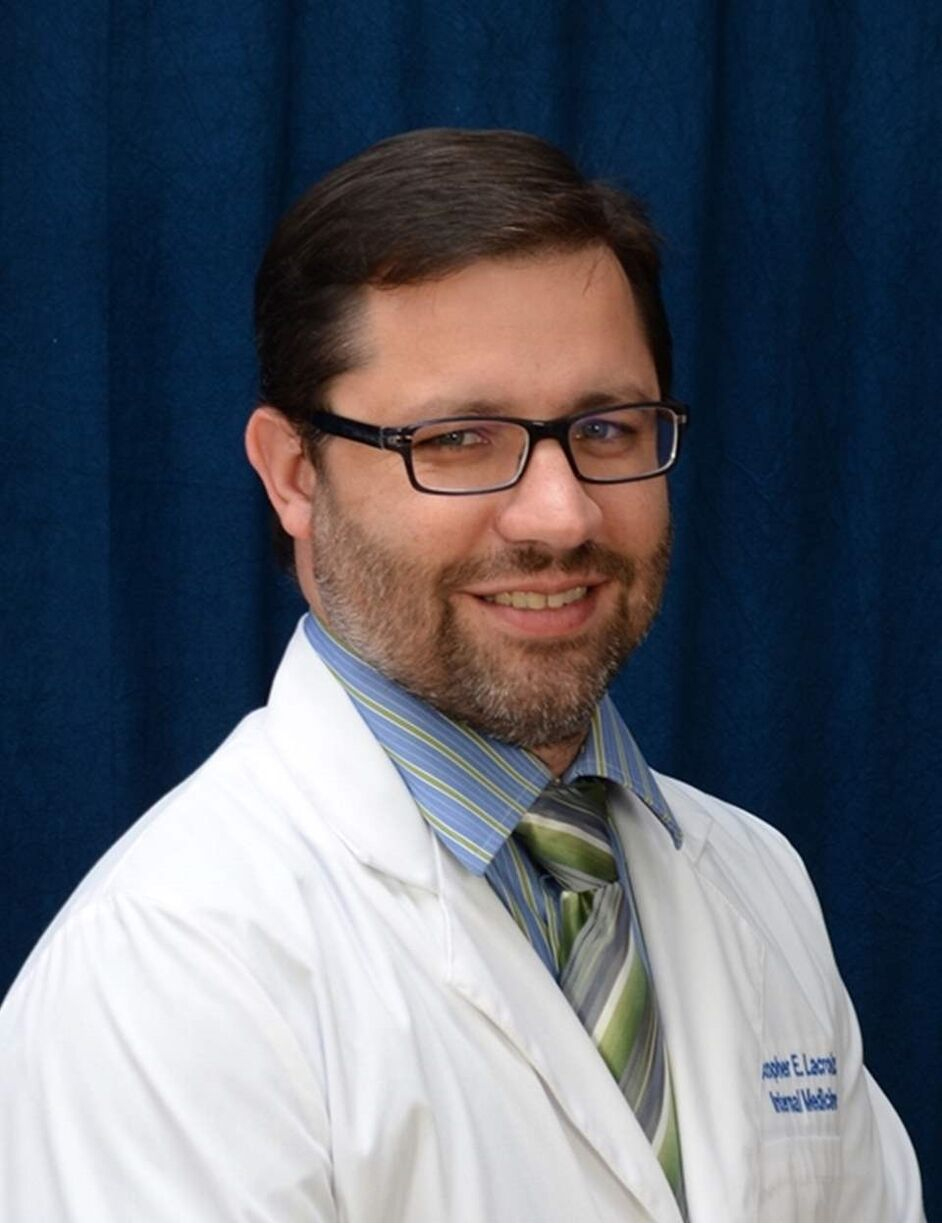 Meet Dr. Lacroix
Christopher E. Lacroix, MD
Board-Certified in Internal Medicine
Board-Certified: American Board of Internal Medicine
Residency: Internal Medicine, Virginia Commonwealth University at Medical College of Virginia, Richmond, VA
MD: University of Minnesota-Minneapolis School of Medicine, Minneapolis, MN
BS: Cell and Structural Biology, University of Illinois, Urbana-Champaign, IL
"I chose this field to make a difference in people's lives. As a young boy, I was always interested in seeing my X-rays after sporting injuries. As I got older, I witnessed firsthand my grandmother's illness caused by toxic chemicals from the dry cleaning industry where she worked for many years, hoping someday I would be able to help her."
"I enjoy the privilege of being part of people's lives when they need advice, counseling or comfort through the joyous, apprehensive and difficult times. It's rewarding to earn a patient's trust over time so I can learn how best to assist him or her with some of the most personal and important decisions he or she will ever make. What I find most gratifying is walking with patients through difficult times and witnessing them reach their health goals."
"I realize that everyone's situation and life experiences are unique. That is why I take a partnership approach to care. This is the beauty and art I love about medicine: no two situations or paths to health are the same. I strive to give my patients a thoughtful, high-quality and individualized care experience within a peaceful and unhurried environment. Along with our concierge approach, we still want to be families and businesses choice for being their Primary Care Physician Greenville NC provider."
In his spare time, Dr. Lacroix has coached sports for over 20 seasons, including baseball, flag football and basketball. He and his wife are very active in their church and lead small group Bible studies on weekends. Having a heart for those less fortunate in the community, they avail themselves to outreach opportunities.
At Viva Med, we create a big difference in people's lives. Call us at 252-329-VIVA (8482). 
Meet Dr. Hite
Lauren Codi Hite, MD
Internal Medicine
MD: University of South Carolina School of Medicine, Columbia, SC
Residency: East Carolina University Brody School of Medicine, Greenville, NC
"I'm excited both to be working here at Viva Med, and to finally be settled down in Greenville for good. I'm from the South Carolina upstate, and completed both a degree in Experimental Psychology and medical school at the University of South Carolina in Columbia. After completing an Internal Medicine residency at Vidant Medical Center here in Greenville, I served for four years as a United States Air Force physician stationed at Keesler Air Force Base, Mississippi. Military service was an adventure, and allowed me to care for patients ranging from young recruits to retirees to aircrew members. Though Mississippi came to feel like home, I'd already fallen in love with Greenville and moved straight back after separating.
During medical school I quickly developed a passion for internal medicine. Working in primary care lets me develop personal relationships with my patients, and keeps me on my toes by drawing on my knowledge of fields like nephrology and neurology. When patients need specialty care, I take pleasure in making sure that I connect them with the best person for the job. I make it a point to make each appointment a conversation–both listening closely to the patient and giving them the information that they need to make informed decisions about their health. I've found that understanding where a person is coming from, and seeing their health in the context of their work, family, spirituality, and past is just as important as a stethoscope or an EKG in helping them decide how to best care for themselves.
Viva Med has also given me the unique opportunity to work with veterans, evaluating them for service-connected disability as part of the VA process. My military service has been a great help here; knowing the lingo, organization, and job duties experienced by service members makes it much easier to ensure that my report gives the VA evaluators all the information they need. I'm proud to play a part in getting benefits to the veterans that need them.
When I'm not at work I enjoy good coffee, competitive video games, photography, creating custom dolls, and traveling to new places."
Meet Dr. Zomorodian
Laila Zomorodian, MD
General Surgery
MD: University of Washington University School of Medicine, Seattle, WA
Residency: East Carolina University Brody School of Medicine, Greenville, NC
"I highly value the personal interactions I have with my patients. Learning my patient stories and backgrounds has helped me appreciate a tremendous amount about life and humanity. I have always had a desire to help people feel better, through listening, engaging, and to help them understand a complex medical issue. I am also passionate about patient education and helping people understand the process behind illnesses and reasons for recommending a specific intervention. When giving guidance to my patients, I try to think about how I would want my family to be treated by their physicians as I hope to provide patients with a sense of relief as being ill can be scary and frustrating.
Currently I am pursuing a Masters degree in Public Health because I care about improving the overall health in our communities as well as individual patients. I want to help resolve health disparities and reach the people who may have been left behind. I believe all people have a right to healthcare.
In my free time I enjoy playing viola and violin, reading, crafting, DIY projects, and gardening. I love to travel and have spent time living in East Africa. I enjoy hiking, camping, backpacking and being outdoors. Most of all I enjoy time with family, friends, and my cats Makoo and Sakoo."
Meet Rekita
Rekita Williams, FNP-C
"I am a Family Nurse Practitioner who has been practicing in family medicine for 4 years with primary focus on prevention of chronic disease and maximizing outcomes in those with chronic disease. My background consists of primary care, acute care, long-term care, and health care management. I am currently studying to obtain a psychiatric nurse practitioner certification in order to effectively manage psychiatric healthcare needs and help fill the gaps in care that exist. I made the decision to go into healthcare at a young age as my passion has always been to help/serve others. My philosophy of care is to partner with patients to identify and establish an individualized health care plan."
"What I enjoy most about being a medical provider is building relationships with my patients and having the opportunity to be part of the success of their outcomes. My goal is to be accessible and provide the safest and efficient healthcare possible, while building trusting partnerships as we take this journey together as it relates to your care."
"I am currently a member of the American Association of Nurse Practitioners. In my free time I enjoy spending time with family, especially having mommy-daughter dates. Other enjoyment includes painting and traveling. I love giving back to the community by participating in health fairs and service events."
Meet Kiotta
Kiotta Barnhill ANP
I was born and raised in Eastern North Carolina. From a younger age, I was interested in health, healthy habits, and helping people around me. As I got older and my grandmother went through her illness and disability process, I took a special interest in making sure patients could get connected to the care and services he or she needs to treat their medical condition.
I started my career in nursing, graduating from UNC-Chapel Hill with a BSN (Nursing) in 1994. I have worked as a clinical diabetes nurse specialist for many years at the start of my career. Seeing how much more I could help patients and families as a Nurse Practitioner, I decided to further my education at ECU to become an Adult Nurse Practitioner.
I have been practicing as a Nurse practitioner since 2010. I have backgrounds in primary care, nephrology, and endocrinology/diabetes management. I joined Viva Med, as I also have an interest in "non-traditional" healthcare delivery as our current insurance model does not address the needs of all people seeking care. I also hope to decrease the stress that patients face in going through the disability process. My professional philosophy is to treat patients as I would want to be treated.
In my spare time, I enjoy spending time with my daughter, couponing, and travel.
.Meet Stacey
Stacey Brausch
AGPCNP-BC
License Number # 5017192
I feel the nursing field chose me as I began a journey to enhance my own personal wellness and find the right "physical balance". I wanted to improve my energy and balance my mood.
So, I attended and obtained my Associate of Science in Nursing at Sampson Community College in 2011 and worked for one year then went on to obtain my Bachelor of Science in Nursing in 2013 from Grand Canyon University.  After years in the nursing field I decided to further my education as a Nurse Practitioner, completing my MSN in Adult Gerontology and Primary Care Nursing Program. 
My focus is on wellness, nutrition, hormones, and micronutrients.  I enjoy performing procedures like injections, implants, and starting IV's and other healthy infusions like Myer's Cocktails. This led me to learn more about the benefits of bioidentical hormone replacement therapy, IV vitamin infusions, and aesthetics procedures.  Finding a harmonious balance is key for me and my patients so they can feel renergized.
Overall, I enjoy getting to know you on a personal level, assisting you with becoming the best version of yourself by defining and restoring your personal health goals. I have found a niche in doing this through Hormone Optimization, weight loss strategies, Vitamin IV infusions and various other aesthetic procedures. I am pleased the Viva Med allows me to do this and much more in servicing our patients.